From Easter to October period is overrun by tourists and by the same Sicilian, and it's very nice to visit during other months of the year whereas the climate is always mild. The city is very beautiful in spring when the air smells of flowers like orange blossom season. The main axis of Taormina Corso Umberto, which starts at Porta Messina to Porta Catania.
On it is bordered by shops bars pastries. In the middle of the Corso Umberto Piazza IX Aprile opens a panoramic terrace overlooked by the churches of St. Augustine. Dal Corso Umberto branching side streets and staircases that reach into corners very peaceful. One of them leads to Naumachie, an imposing brick building thermal Roman Empire, which remains a wall with 18 arched niches.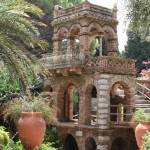 Taormina presents the visitors the occasion to closely observe floral beauties and exotic trees, so the characteristic of distant lands, but also typical species from the Mediterranean basin, like the olive, the carob tree or the domestic pine.